Artists living or working in Loudoun county are invited to submit artwork for the Loudoun Arts Council and Arts in the Village Gallery's show: 30 Years of Vision: Celebrating the Arts in Loudoun County. This special installation will take place October 1st through 31st at Arts in the Village Gallery. The exhibit celebrates the 30 years of LAC support for the arts, as well as AitV's five years as Leesburg's only cooperative art gallery.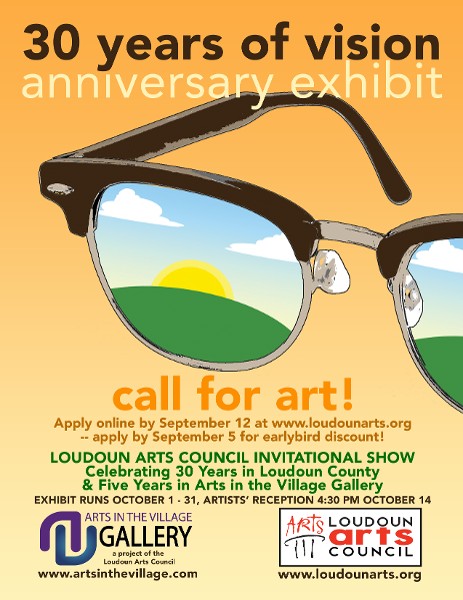 The future's so bright, we gotta wear shades.
The eligible categories for two-dimensional artwork include acrylic painting, collage, digital art, encaustic painting, ink or charcoal drawing, oil painting, pastels, photography, printmaking, watercolors, and mixed media. Three-dimensional artwork is also eligible for entry.
Only original artwork, created by the applying artist, is eligible. Commercially mass-produced items including kit assembled or hobby items of any kind are not eligible. Reproductions and/or prints are not allowed except for printmaking, photography, and digital art. The size of 2D artwork is limited to a minimum unframed size of 8x10 inches to a maximum framed size of 18x22 inches.
3D artwork is limited to a minimum footprint of 2x2 inches and a maximum footprint of 12x12 inches. Artwork that does not conform to this size range may be disqualified. The jury reserves the right to decide based on the size and volume of the individual piece. Jewelry pieces must include a bust or other appropriate display method that is included in the application image. Jewelers must also provide any security measures needed for their work.
Artists may submit no more than two entries for consideration by the jury, regardless of category.
Framing Standards:
All selected hanging/2D artwork must be delivered ready for hanging with wire (no sawtooth hangers).

Artwork must be framed, with the exception of gallery-wrapped canvas or metal prints with a hanging structure on the back. Framing is at the artist's expense. "Off the shelf" standard sized frames are acceptable. Frames should be made of wood or metal, no plastic. Frames should be clean and undamaged. Artwork that is not ready for hanging or poorly presented may be disqualified from the exhibit, at the discretion of Arts in the Village Gallery.

Artists can designate whether their artwork will be for sale or not for sale. If for sale, art will be sold as is with the frame.
How to Apply
Complete the online application form, submitting images representing no more than two works to be considered by the jury
Pay the applicable early bird entry fee by September 5th or the applicable non-early-bird fee by September 12th via Paypal (no PayPal account needed)

LAC Members $20

Non-Members $25

New Basic Members $35 + $20

New Premier Members $100 + $20


If joining the LAC as a new member, complete the online membership form
Jurying and Awards
Artwork will be juried by the artist members of Arts in the Village Gallery. Artistic execution, composition, and creative vision will all be considered in judging. Jury decisions are final.
There will be two awards given in the categories of 2D and 3D: Jury's Choice and People's Choice. Each has a cash prize of $200. Winners will be announced during the reception on October 14th, 2017. Awards will be paid to the winning artists by check in November 2017.
Artists' Reception
On October 14th, 2017, there will be an Artists' Reception from 4:30 to 7:00 p.m. The public is invited to join us for live music, cocktails, and hors d'oeuvres. Accepted artists are encouraged to attend the reception, where the artists' awards will be announced.
Application Deadlines and Fees:
Early-bird deadline: September 5th, 11:59pm — $20 for LAC members, $25 for non-members.
Final deadline: September 12th, 11:59pm — $30 for LAC members, $35 for non-members.
Artist Notification
Artists will be notified of show acceptance or non-acceptance via email on Sunday, September 17th, 2017. Accepted artist names will also be posted on the Arts in the Village website. Accepted artists are encouraged to attend the show reception, where the winners will be announced. Arts in the Village Gallery will provide artists with show information that they can distribute electronically to help publicize the show via email and social media.
Artwork Delivery and Pickup
Selected artwork should be dropped off at Arts in the Village Gallery during regular gallery hours September 24th-30th. Shipped art will not be accepted. Once accepted and delivered, artwork will be on display for the duration of the show, and cannot be removed until the end of the show. After the show is finished, unsold artwork can be picked up at Arts in the Village Gallery during regular gallery hours November 1st-5th.
Art Sales and Commissions
All entrants must list the sale price or indicate "not for sale" for each piece submitted. Only jury-selected artwork will be included in the show, and work will remain on display for the duration of the show. In the event that artwork sells during the show, it can be collected by the customer after the conclusion of the exhibit.
Arts in the Village Gallery will manage show artwork sales to collect payment and sales tax. Arts in the Village Gallery / Loudoun Arts Council will receive a 5% commission for each sold artwork. For example, if a painting sells for $100 (pre-tax amount), the artist will be paid $95 and Arts in the Village Gallery / Loudoun Arts Council will receive $5.
Checks for sold artwork will be mailed to artists in November 2017. In the event that an individual artist is due commissions and awards totaling more than $600, the artist will be required to complete a W-9 tax form before they can be paid.
Liability and Release
Insurance protection for any submitted art is the sole responsibility of each artist. Each artist holds Arts in the Village Gallery, the Loudoun Arts Council, as well as each such entities' members, officers, directors, show staff, volunteers, and anyone else connected with the art show (collectively, "Indemnified Parties") harmless from any and all claims which may occur by reason of loss or damage from coming onto Arts in the Village Gallery and to the submitted works of art while in possession or control of the show, and each artist agrees that all accepted artwork may be photographed for show promotional purposes.
Questions? Please contact us at info@loudounarts.org or 571-577-9367.