LAC Professional Member
LAC artWorks Artist
WLAST Artist
Tan Armentrout / Tan's Gallery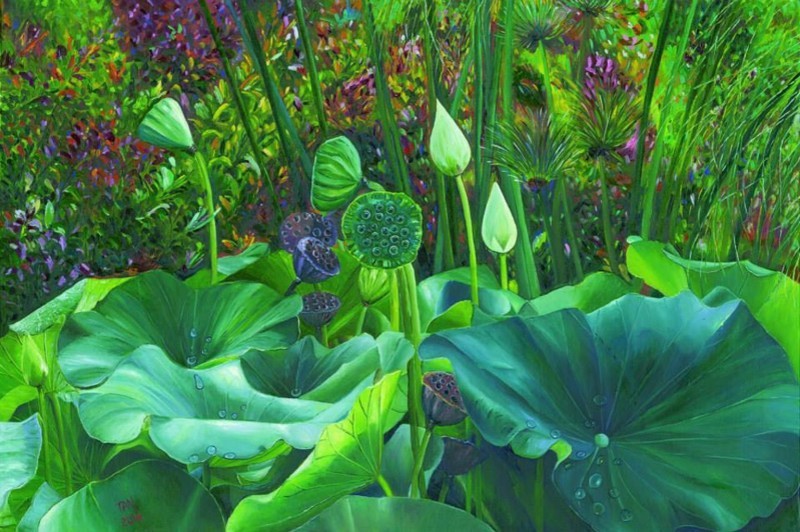 "Lotus" by Tan Armentrout
A driven and prolific painter in oil, Tan likes to paint all night to capture the fancies and the fantasies that fill her mind. Depending on her artistic intention, Tan changes the brushwork from fine and detailed to visible and impressionistic. One woodland scene, "Beautiful Swan," captures tree-filtered sunlight on a hidden pond, a swan floating serenely. In "Lotus," lush leaves look as though elves or frogs should peek out from underneath — but the artist leaves those to the imagination. And in a realistic turn, a log-strewn, rocky stream comes straight out of the Virginia woods familiar to any longtime camper or hiker.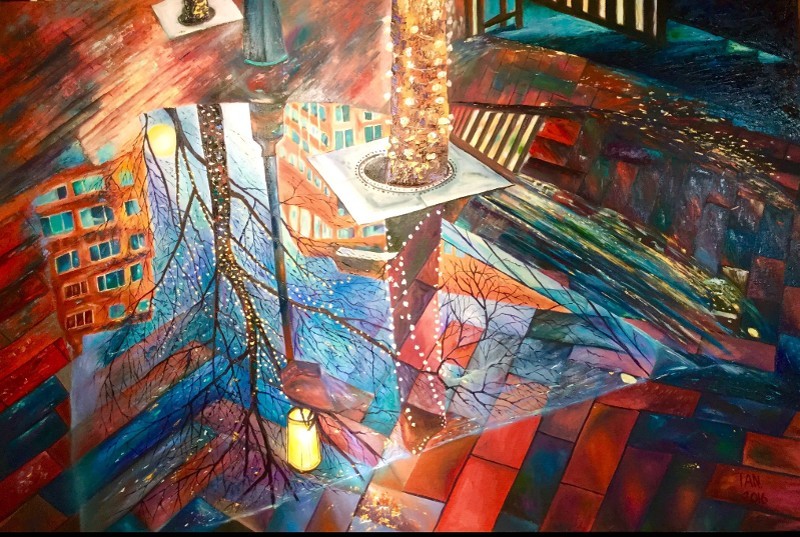 "Reston Town Reflection" by Tan Armentrout
Tan has lived in Virginia for more than 20 years, but she got her start as an artist in her country of origin, Thailand. As a fifteen-year-old she met the artists in the Thai Air Force, where her mother served. Their teaching got her started, but she has taught herself for her entire career since. And still today, the family farm on the Chao Phraya River inspires her use of vivid and verdant colors, with memories of tropical flowers, bananas, coconuts, and mangos. Those colors fill her still life too, as well as the idyllic landscapes of dramatic Thai coastlands.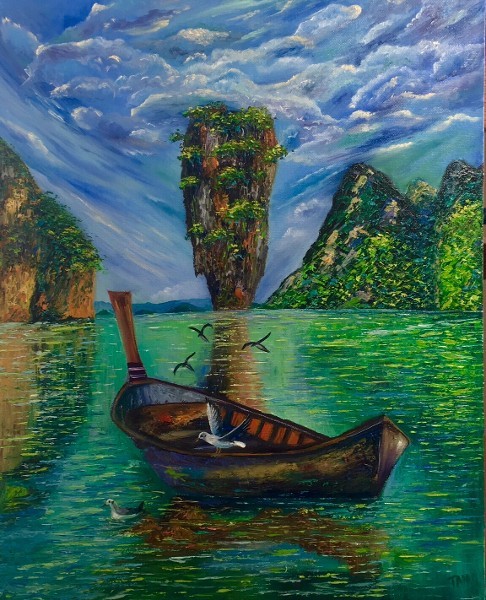 "James Bond Island" (Ao Phang Nga National Park, Thailand) by Tan Armentrout
Tan's latest works have blended the human element into fantastic scenes, with figures or architectural elements. In "Beautiful Mind Inspires Others," a black-haired flute player emerges from the dappled trees, with geometric patterns on the leathery fringed clothing, the painted face telling you this is one who has always belonged here. "The Piano Guys" play their grand piano and cello in tuxedos amid green-green trees, wildflowers, and exotic birds — where the musicians seem to fit just as well. Bringing nature into the home, "By the Pond" lets the viewer take a seat in the Adirondack chairs by lily pads with blue turtles catching glimpses of sun. And "Secret Garden" shows you what awaits at the bottom of a hidden staircase into a colorful retreat from the troubles of life. And on an excursion into nature, "I can and I will… watch me" allows you to rest by your beached boat as you soak in the explosion of red and blue colors reflecting off the clouds and the waters of a secluded bay from an enchanted land.
Memory and imagination drive Tan through the night and into the morning as she paints. As the sun sets, her mind fills with the colors of the scene she wants to portray. When morning comes, another completed landscape or still life rests on the easel.
Tan's artwork is available at the Gateway Gallery in Round Hill, VA, and at various shows and locations in Virginia, Maryland, and Washington, DC.
Tan is also a participating artWorks artist whose work could grace the walls of your venue in rotating quarterly shows.