LAC Professional Member
LAC artWorks Artist
Kim T. Richards / Kim T. Richards Art + Design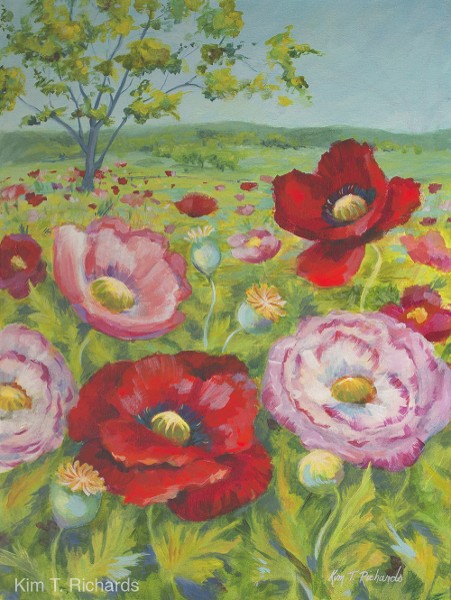 "Abundance of Riches" by Kim T. Richards
Biography:
Like most artists, Kim spent most of her childhood obsessed with art. She grew up in Brooklyn NY, where she frequently went on excursions to the Brooklyn Museum with her mother and aunt. With every visit, she found herself racing out of the spooky period rooms to find solace with the paintings. She worked her way through college at the Metropolitan Museum of Art, and received a BFA in illustration from Parsons School of Design.
After a few years of working as a print designer in New York City's garment district, she moved to San Francisco. The climate of the Bay Area is conducive to being outdoors most of the year, and she spent many weekends hiking and riding her bike throughout the region. After meeting her husband on one of those hilly rides, they decided to move to Loudoun County to be closer to family. Kim continued to design fabric while her children were small,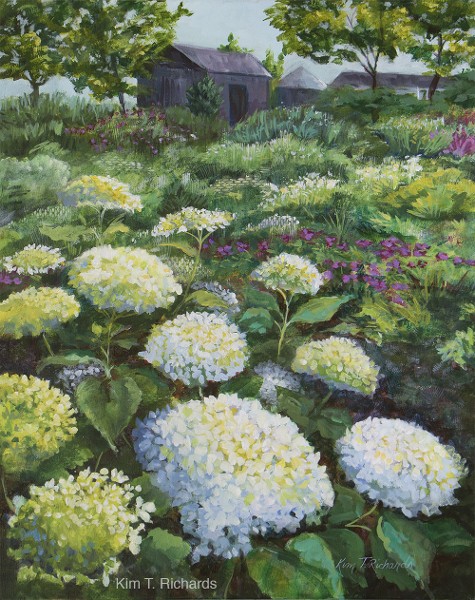 but by that time, textile design had gone digital, and she began to miss her paintbrushes. After many happy weekends spent at the dearly missed Art Square in Leesburg, Kim decided to make painting her main focus, and closed the doors on her print designing days.
Her fabric design background is still an influence on her work. Texture, color and pattern are all strong driving forces in her paintings. Flowers were a frequent design element for her, and they still figure prominently in her work. When not in the studio, you can often find Kim in her backyard garden, which she is working to fill with all the flowers she loves to paint. Wherever she goes, she looks for inspiration all around her, whether it is on a hike, out with the Loudoun Sketch Club, or in her own backyard.
Artist's Statement:
It all comes back to color. I am drawn to bold, vibrant color, and am fascinated by the way colors work together to evoke emotion and mood. While out walking, the color of a flower can stop me in my tracks. Back in the studio, I sketch, and paint, trying to bring that excitement to the canvas. I often start my paintings in a furious flurry of brushwork, creating texture and laying in color. These early abstracted beginnings often peek through subsequent layers and become integral parts of the finished painting. As I paint, I begin to slow down, and my brushstrokes become more focused and purposeful. A lifetime can be spent exploring color relationships, and it is my intention to do exactly that. Along the way, my wish is for my art to bring as much joy to others as creating it has brought to me.
Also of Note:
Kim is also a participating artWorks artist whose work could grace the walls of your venue in rotating quarterly shows.