LAC Professional Member
LAC artWorks Artist
CHAT Artist & Tour Stop
WLAST Artist & Tour Stop
LAC Member Card Partner
Garden Corner Studios / Jill & Haig Evans-Kavaldjian
38615 Morrisonville Road, Lovettsville, VA 20180 (Directions)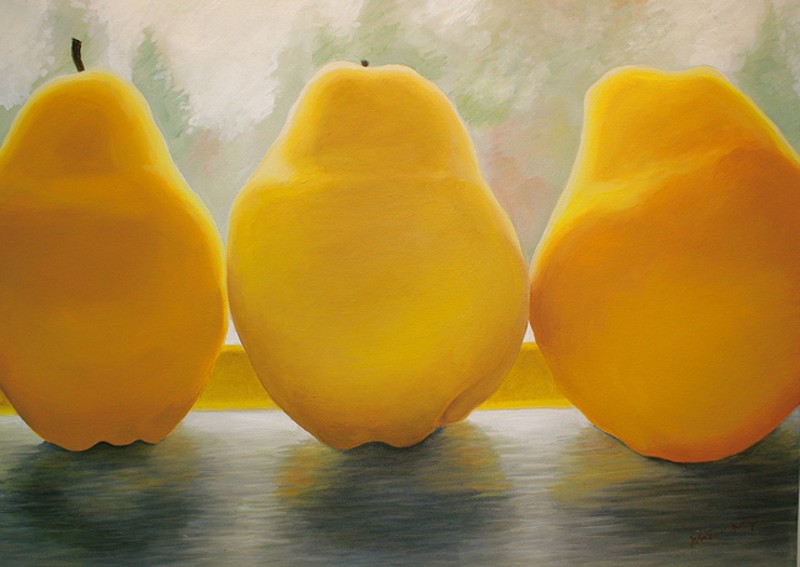 "Autumn View (Three Pears)" by Jill Evans-Kavaldjian
A graduate of Virginia Commonwealth University (Painting and Printmaking), Jill Evans-Kavaldjian works in a variety of media. A founding member of the Gateway Gallery and the Catoctin Holiday Art Tour (CHAT), she is also an arts advocate and President of the Loudoun Arts Council. She recently completed her first book, the Virginia Farm Alphabet Coloring Book, an interactive experience featuring her Farm Alphabet print series, with riddles in verse. Jill's art and design work, and her home studio in Lovettsville (open by appointment and during special events like CHAT and WLAST), fall under the Art at Garden Corner banner.
Jill also works as a graphic designer with her husband, Haig Evans-Kavaldjian, a software engineer specializing in content management for small businesses (especially arts businesses). Together they work on these projects under the Arts & Letters banner. Arts & Letters also provides design, development, and web hosting for the LAC at no charge to the arts council.
As participants in the Loudoun Arts Member Discounts program, Jill and Haig offer a substantial discount on print and web projects to other Loudoun Arts members. Get in touch with them to discuss your next project — anything from a postcard or poster to an easy-to-use fully-featured e-commerce website.
Jill is also a participating artWorks artist whose work could grace the walls of your venue in rotating quarterly shows.