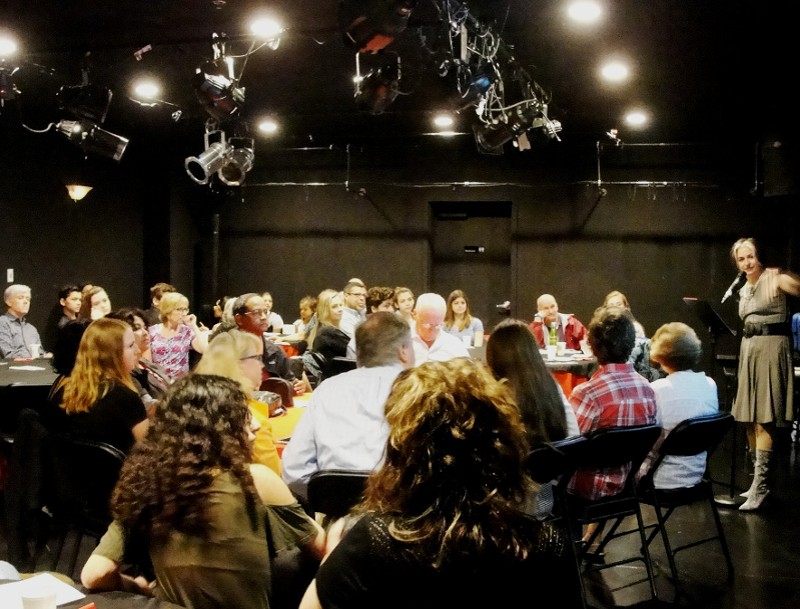 LAC Vice President Heather Stillings addresses attendees at the Gale Waldron 2018 Excellence in the Arts Showcase.
Community leaders in business and the arts worked together with the Loudoun Arts Council this spring to restart the LAC's teen awards program, renamed the Gale Waldron Excellence in the Arts Awards. Dozens of talented young people submitted work for the competition in eight arts categories.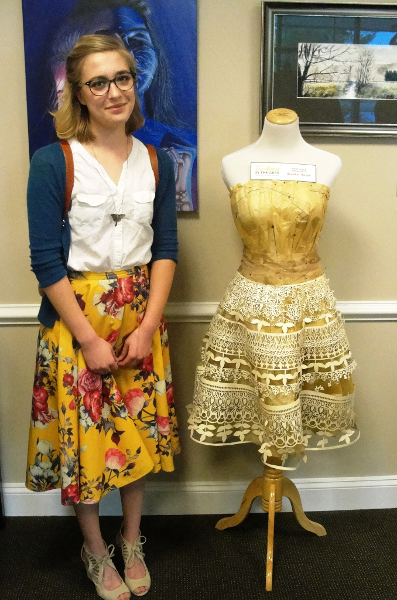 First Place Winner in the Visual Arts Annabel Nelson with her piece, "Pin Up".
Emerging talents in Dance, Digital Arts, Literary Arts, Instrumental Music, Vocal Music, and Visual Arts received prizes.The young artists were invited to present their award winning work at a special showcase on May 5th at StageCoach Theatre in Ashburn.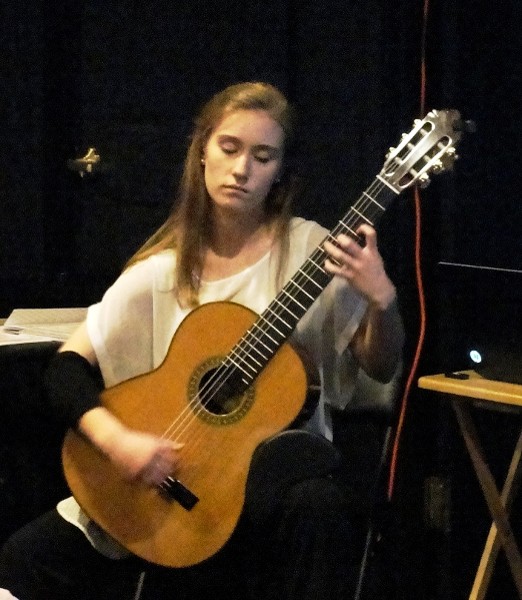 Instrumental Music award winner Allison Lane on guitar at the Awards Showcase.
Winners received cash prizes to help them take their arts to the next level. The Loudoun Arts Council gives a heartfelt "thank you" all who made this event possible, and is already working on next year's Excellence competition.
The Loudoun Arts Council offers many thanks to our very generous 2018 Donors and Sponsors for making this year's program possible:
Franklin Park Arts Center
Friends of Franklin Part Arts Center
Round Hill Arts Center
StageCoach Theatre Company
The Piedmont Arts Foundation
Northwest Federal Credit Union
The Robey Foundation
Kathy Farmer
Lee Notar
Haig & Jill Evans-Kavaldjian
Wendy A. Augustine
Stephanie Wolf
Bruce Bucklin
Jeffrey Stern
Heather Stillings
Mary Kenesson
Kaarin Nelson
Kimberly Keese
Graham Burns
Charlotte DeMolay
Pamela Butler
Anne and Iain Baird
Melanie Miles
Christopher and Judith Gerow
Jeanne Niccolls
The 2018 Gale Waldron Excellence in the Arts Award-Winners:
Dance
1st: Kara Heidorn
2nd: Arran Ponté
Digital Imaging
1st: Jeremiah Morrison
2nd: Ronan York
Honorable Mention: Paravi Das
Instrumental Music
1st: Nicole Fetterman
2nd: Allison Lane
Literary Art
1st: Caitlin Blake
2nd: Georgia Orphanides
Theatre
1st: Katherine Markle
2nd: Noah Hamadé
Honorable Mention: Anna Kasun
Visual Art
1st: Annabel Nelson
2nd: Sejung Kim
Honorable Mention: Jeremiah Morrison
Vocal Music
1st: Paravi Das
2nd: Noah Hamadé
Honorable Mention: Mikayla Connolly and Katherine Markle