The Loudoun Arts Council and its sponsors are working to create opportunities for local artists and arts organizations.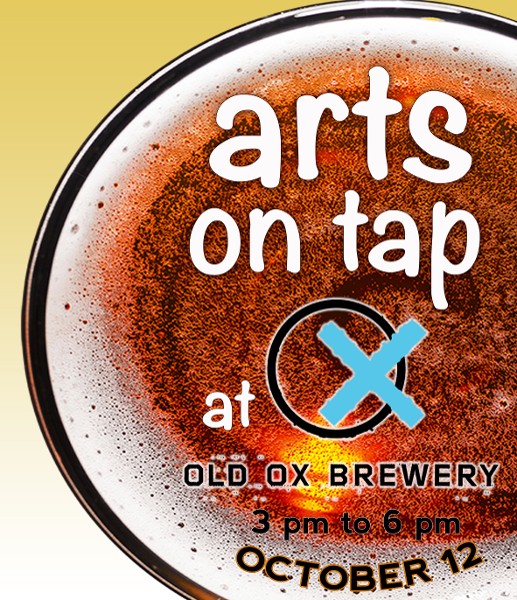 Arts On Tap, sponsored by the LAC and Old Ox Brewery
Visual, literary, and performing arts organizations are encouraged to attend Arts On Tap on Monday, October 12th to share information about their groups through a "speed dating" event from 3 to 4 pm. The idea behind it is this: each organization will have one representative at a table with a presentation, literature, etc, and at least one other representative will be there to "float." At the ring of a bell, the floaters will approach the nearest other organization to meet the people behind it and learn about their mission and their activities. In five minutes, the bell will ring again, and the floaters will move once again, and so on, until 4pm. It'll be like musical chairs, but with no one left out!
Then, from 4 to 6 pm, Arts On Tap will be an informal opportunity for everyone to make connections. Enjoy the delicious craft-brewed beers of LAC sponsor Old Ox Brewery, as well as wings, sausages, and sides by The Wing Guy. Try your hand at cornhole, and have fascinating conversations with artists, musicians, performers, and arts lovers.

Participants can also sign up for a Loudoun Arts Council membership, including an LAC Member Card, which gets LAC members a 10% discount on purchases at Old Ox and other benefits. Sign up in advance or at the event. Annual memberships start at $35, or $25 for students and artists over 65. Current members can pick up their membership cards at the event, or level up to a Premier membership — with enhanced benefits — for just $40.

Bring yourself, your business cards, and your ideas for new ways the LAC can help support the arts in your neighborhood. Join us!
Old Ox Brewery is located at 44652 Guilford Road, Unit 114, Ashburn, VA 20147. Their number is 703-729-8375.