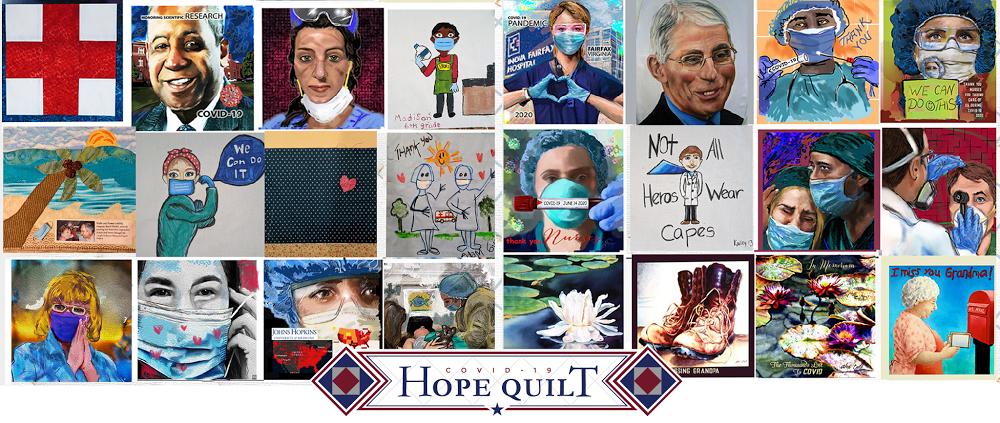 Sample of quilt panels submitted to the COVID-19 HOPE Quilt Project
During this historic moment, the COVID-19 pandemic poses an unprecedented national crisis. Loudoun Arts has joined in partnership with 50 West Vineyards, Sunset Hills Vineyard, and Artistic Fuel, to launch The COVID-19 Hope Quilt Project, a grassroots community art project in response to national sentiments of grief and uncertainty.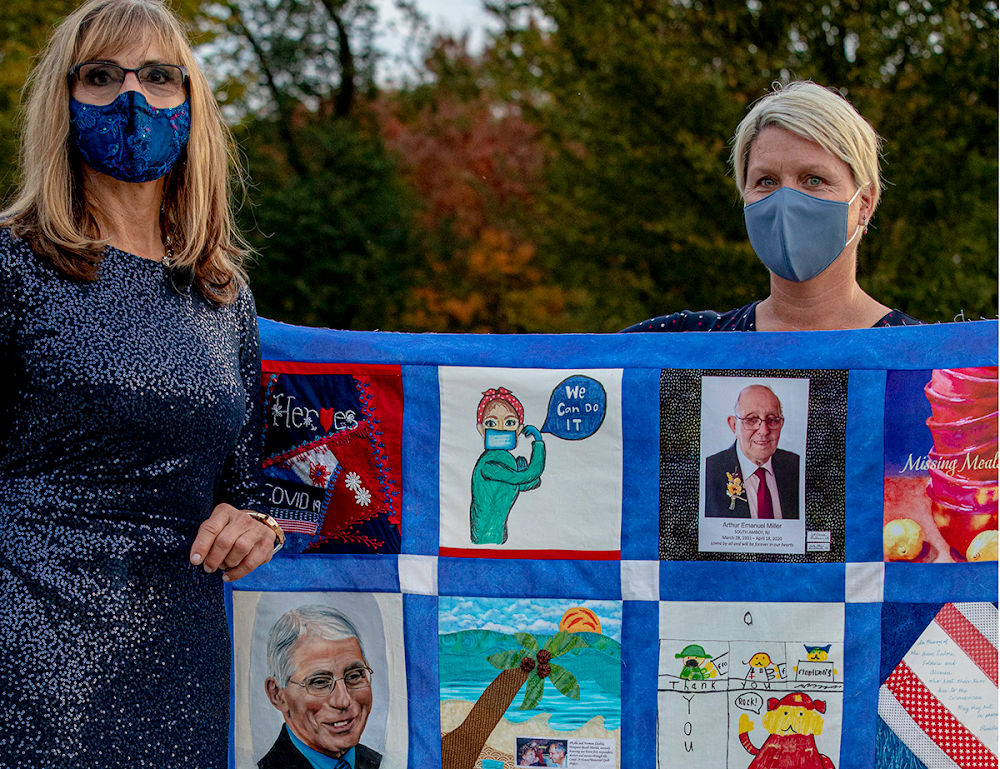 Diane Canney, founder of the COVID-19 HOPE Quilt Project, and Betsy Scotto-Lavino, Director of Research and Education for Artistic Fuel, pose with a quilt
MISSION – To enable people across America to express gratitude for medical professionals and frontline workers fighting the COVID-19 pandemic, and to honor those who have suffered or died.
VISION – To inspire healing, unity, remembrance, and hope for treatment and a cure for COVID-19 in America.
VALUES – We value and recognize the healing power of art. We recognize the power of documenting this challenging moment in our nation's history and bringing hope to communities.
For hundreds of years, quilts have been part of the fabric of America. Mourning quilts were used to wrap infants and adults who died. Valor quilts honor veterans. They provide comfort, remembrance, and an historical record passed down for generations. Now, when communal grieving is not possible, quilt panels will help tell the story of those affected by the COVID-19 pandemic.
This initiative seeks quilt panel contributions from around the country to provide an outlet for grief and to document heroism in fighting the outbreak.
The idea came about during a conversation between Phyllis Liedtke, a feisty 95-year old in a Florida retirement home, and her daughter, artist Diane Canney. "For my birthday," said Phyllis, "I want you to do something about the pandemic." Phyllis is making the first panel and invites others to join her.
We invite you to learn more about the project and get involved. We also ask you to please consider making a tax-deductible gift to help fund the project. And we thank you for your support!